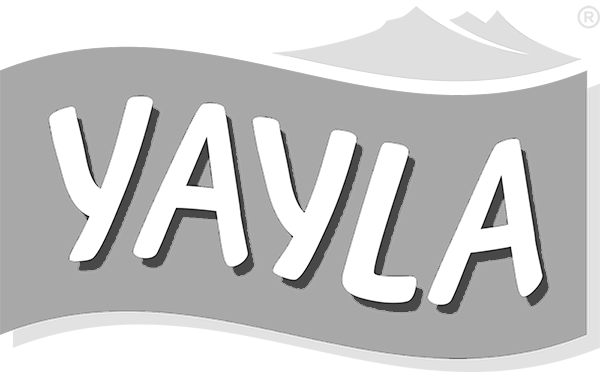 Vegan Garlic Sausage - Turkish Style
200g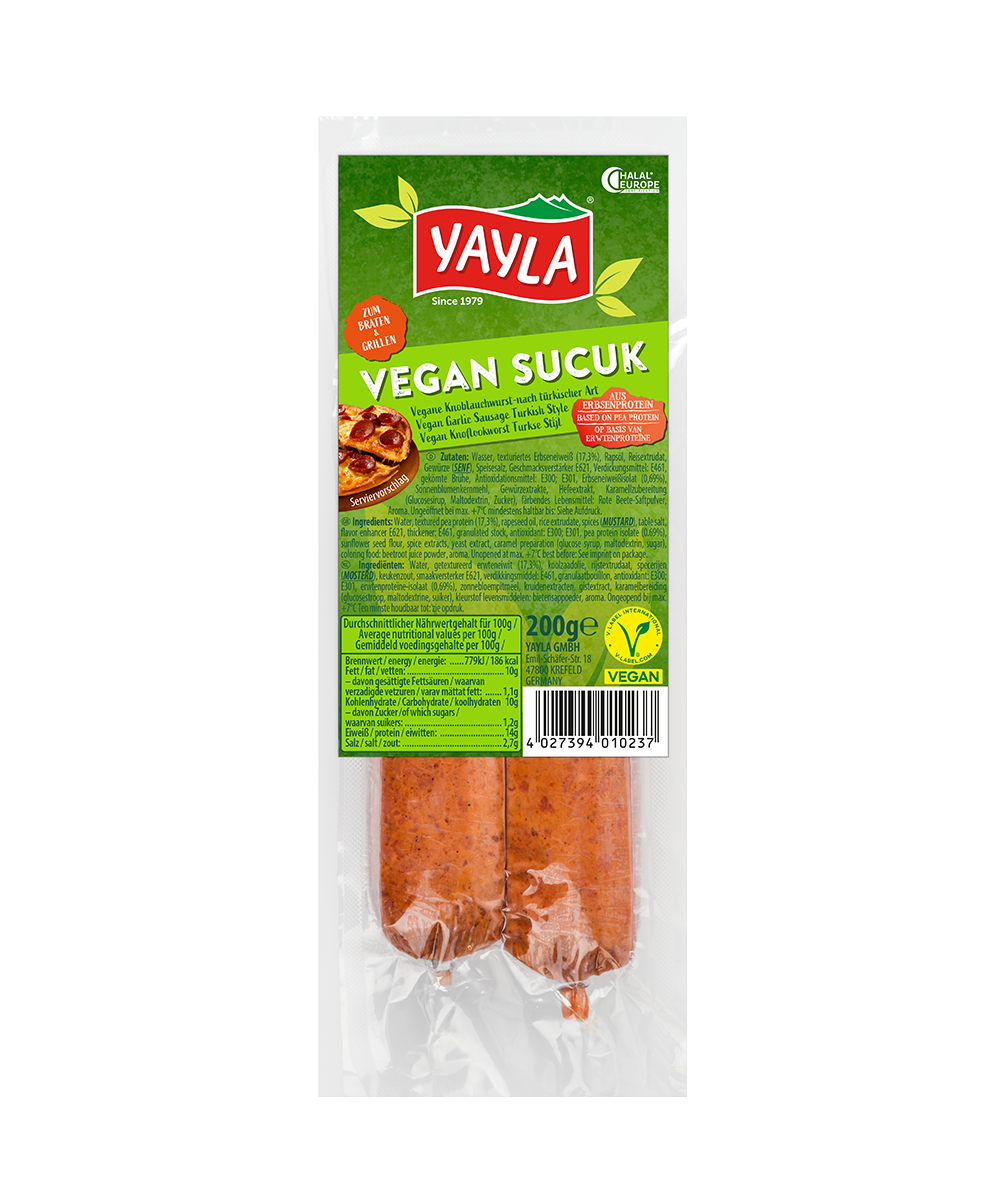 Ingredients
Water, textured pea protein (17,3%), rapeseed oil, rice extrudate, spices (MUSTARD), table salt, flavor enhancer E621, thickener: E461, granulated stock, antioxidant: E300; E301, pea protein isolate (0.69%), sunflower seed flour, spice extracts, yeast extract, caramel preparation (glucose syrup, maltodextrin, sugar), coloring food: beetroot juice powder, aroma, smoke aroma.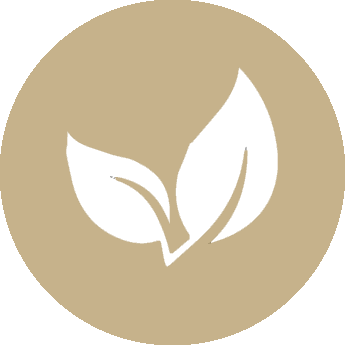 Vegetarisch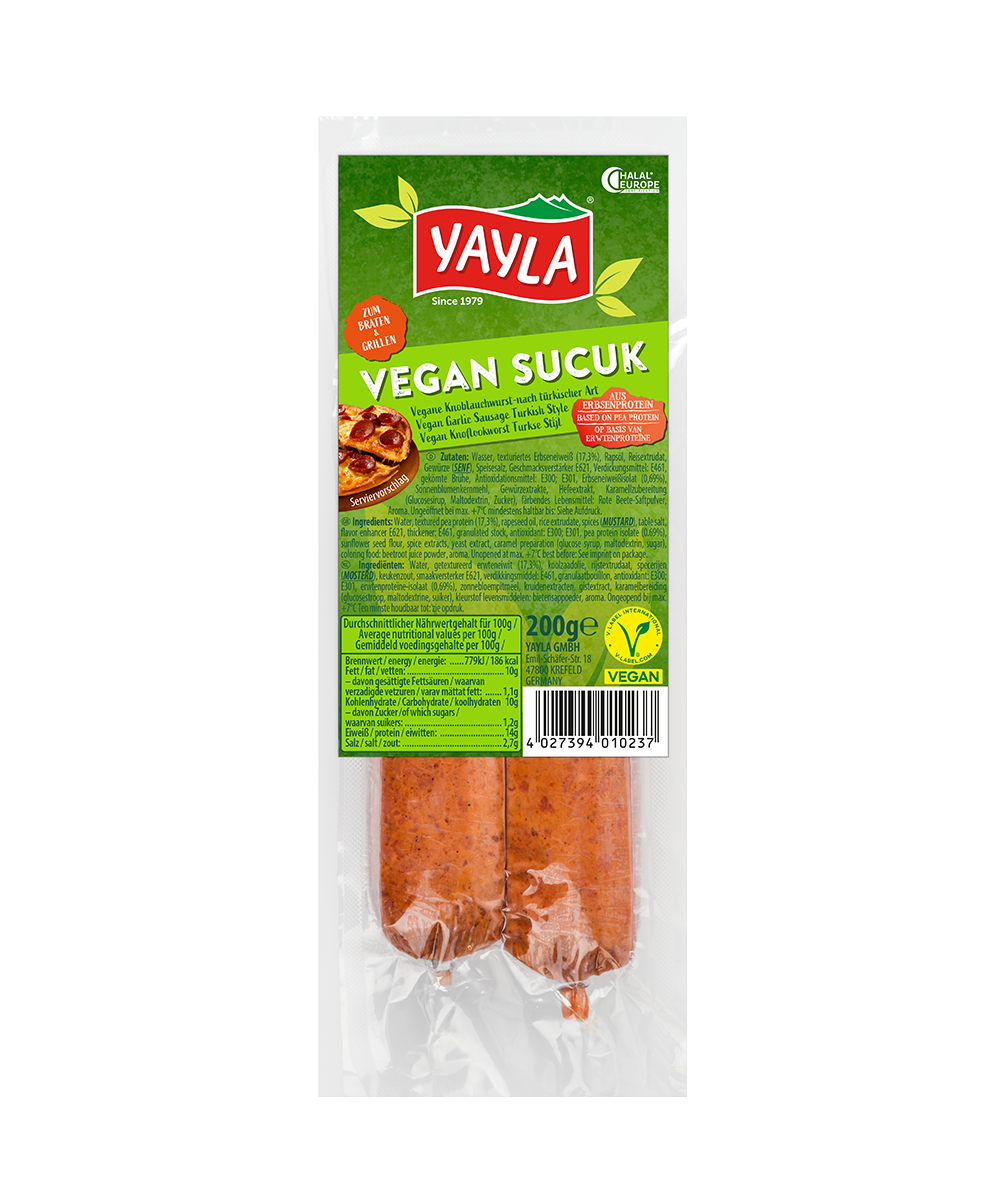 Not in the mood for meat? Discover our vegan Sucuk. You can now enjoy the popular Turkish Sucuk sausage as a purely plant-based alternative. The vegan version also combines a strongly seasoned sausage with a mild spiciness and the typical garlic flavor. You definitely don't have to sacrifice the especially savory taste with this alternative
Delicious, spicy and vegan
You have the choice and can prepare the vegan Sucuk traditionally in a clay pot with vegetables in the oven, enjoy it as a filling in pastry pockets, or simply cook it on the grill. There is no difference in the preparation methods compared to the meat version. The sausage is also excellent for classic pan dishes, for example, in combination with eggs. You can also simply slice the vegan Sucuk and fry it briefly. The savory treat also tastes delicious cold with olives and bread as a side dish
What makes good Sucuk so special
Sucuk is typically a strongly seasoned raw sausage made from beef. The unique flavor of Sucuk sausage is created by the specific blend of spices used, with garlic, cumin, cumin seeds, allspice, and cayenne pepper playing a significant role in determining its flavor.
Buy Vegan Sucuk from Yayla – benefits of this meat alternative
As a significant part of the Turkish cuisine, meat is often consumed. With this fabulously delicious alternative, even meat lovers will hardly taste a difference.


Our vegan Sucuk is based on pea protein. Due to the pea protein, the sausage is not only very digestible but also tastes extremely good. The pea protein has a neutral taste and thus brings out the intense spice blend excellently. Moreover, the pea protein gives a meat-like texture, making the product very similar to the classic meat version. Because of this tasty alternative, vegetarians and vegans no longer have to miss out on anything.
Another advantage of this meat alternative is that the highly protein-rich vegan Sucuk is perfect for a protein-rich diet.
Discover high-quality Yayla products now. Whether you're looking for cold cuts, yogurt, or you are looking for a delicious recipe for Sucuk Burger, you're guaranteed to find what you're looking for with us.
We prioritize responsible handling in all our products - from selecting ingredients to processing them.
Yayla combines these advantages:
Highest quality
Halal-certified food
Original Turkish food in family tradition.
779 kJ /
186 kcal
10g
1,1g
Carbohydrate
From Sugar
Protein
Salt