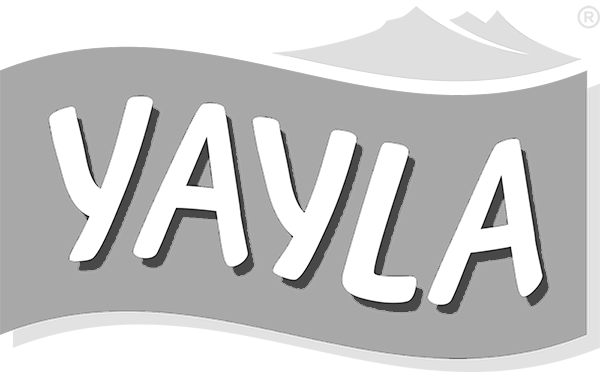 Garlic Sausage Turkish Style
250g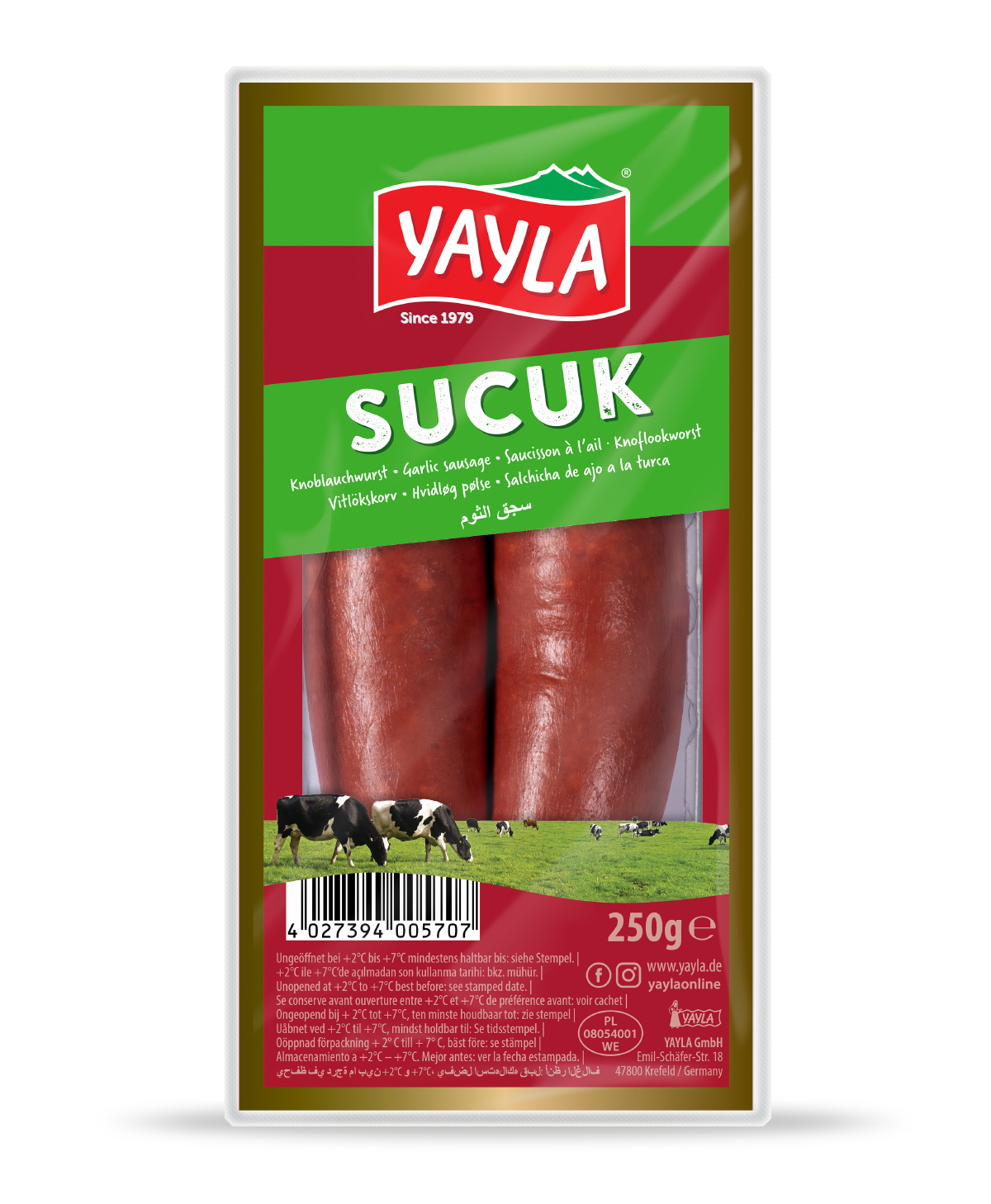 Ingredients
Beef, beef fat, table salt, spices (contains mustard), spice extracts, maltodextrin, colouring food: red beet powder; stabiliser: E450; flavour enhancer: E621; acidifier: E330; antioxidant: E301; preservative: E250; ripening cultures. Non-edible casing of bovine collagen. 100g Turkish-style garlic sausage is produced from 93g beef and 12g beef fat. May contain traces of celery and soya PROTEIN.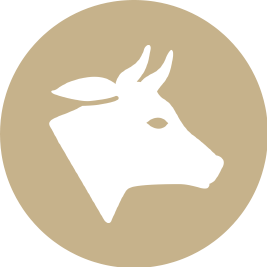 Rind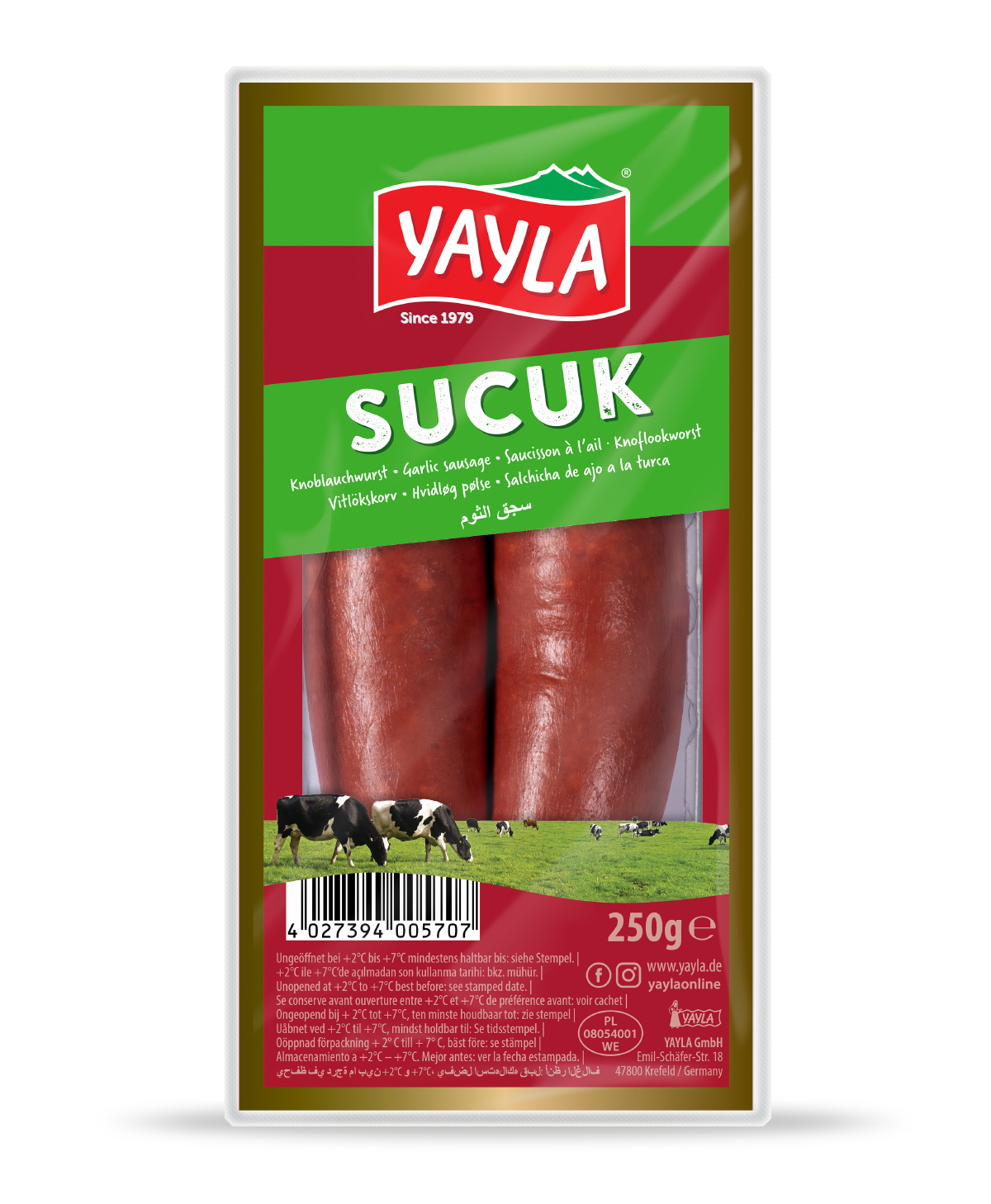 Sucuk: Why turkish garlic sausage is so popular
The sausage specialty Sucuk is widely used in Turkish cuisine. Thanks to its particularly spicy taste, Sucuk is also becoming increasingly popular in Germany. The various shapes and varieties can be prepared in a variety of ways and can be integrated into every meal of the day. In this article, you will learn how Sucuk sausage gets its unique taste, what different types there are, and what dishes you can use the specialty for.
What is Sucuk?
Sucuk is a raw sausage that is usually made from veal, beef, or lamb and is Halal. Sucuk is usually air-dried during production, but in a few cases, it is also smoked. The sausage gets its distinctive taste from an intense seasoning with selected spices.
These spices give the sucuk its unique flavor:
Garlic
Salt
Pepper
Cayenne pepper
Cumin
Allspice
What are the different types of sucuk?
There are three classic ways of producing Sucuk sausage. The specialty is then sold either as a whole or already sliced into ready-to-eat pieces for quick enjoyment. The air-dried and cured sausage has the advantage of being very long-lasting.
Varieties:
Kangal-Sucuk: Translated to German, "Kringel" owes its name to its ring-like shape.
Parmak-Sucuk: Parmak means "finger". This sausage consists of two finger-like individual sausages that are joined together.
Büfe-Sucuk: The Büfe-Sucuk, in German "Buffet" is a much longer version of the Parmak-Sucuk and is sold individually.
Yayla's Sucuk is available in various forms for purchase. When it comes to taste, you can rely on our particularly delicious seasoning for all varieties - familiar flavor in versatile forms.
Origin of garlic sausage
Sucuk is a typical specialty, especially for Turkish cuisine. However, the sausage was not first served in Turkey, but in the Ottoman Empire, where it was first prepared in the Balkans and quickly gained great popularity. Many years later, the garlic sausage made its way to Central Europe through guest workers.
Can Sucuk sausage be eaten raw?
Sucuk can be eaten raw without any problems, as it has been air-dried like other salami sausages. However, in many typical dishes, the sausage is consumed warm. Due to its strong garlic seasoning, the sausage can leave an intense garlic taste
Pregnant women are advised not to eat raw Sucuk, as toxoplasma can be produced in the manufacturing process, which could harm the unborn child. However, if the sausage is sufficiently heated, for example by frying, consuming it no longer poses a risk. If prepared properly, the sausage even offers health benefits to pregnant women due to its high vitamin B content.
Recipes with Sucuk sausage
Whether for breakfast, on the grill, as a snack, or as a hearty dinner - Sucuk can be integrated into your meals in many ways. For example, the sausage can be sliced and placed on a piece of bread, used as a filling for pastry pockets, or prepared as a main course together with vegetables. Sucuk is also a true delicacy when cooked in a pan with eggs, on toast, or in a clay pot with tomato sauce. Another popular way of preparing Sucuk is the hearty Menemen dish for breakfast
Menemen
If you like hearty and spicy breakfasts, you'll love menemen!
These are the ingredients you need:
200g sucuk
8 eggs
2 green pointed peppers
2 red pointed peppers
4 tomatoes
1 onion
Olive oil for frying
for seasoning:
Salt
Pepper
Chili flakes
Parsley
To prepare, peel the tomatoes, cut them into cubes along with the rest of the vegetables and sucuk, and fry them in a pan. Then, beat the eggs and add the spices. Finally, pour the egg mixture into the pan with the vegetables and sausage, mix it together, and cook over medium heat until the egg sets. Done!
Menemen is quick and easy to prepare, yet intensely flavorful and aromatic thanks to the Sucuk sausage.
Classic cheeseburgers are too boring for you and you're in the mood for something new? Then you need to try our Sucuk Burger patties from Yayla. The Sucuk Burger combines Turkish cuisine with modern flair. Thanks to the pre-cut patties, your burger is ready in no time. Discover our recipe for the delicious Sucuk Burger now.
Buy Sucuk sausage from Yayla – is there any store near me?
Hungry? In our Yayla stores, you will find a wide range of Sucuk sausage specialties. Whether you prefer it in one piece or already cut into convenient slices - you will surely find what you're looking for:
Patties
Parmak Sucuk
Kangal Sucuk
You can find Yayla's high-quality products at one of our many partner stores. Find a store for sausage and other halal food from Yayla near you now - our convenient store locator will show you all the stores in your area.
1559 kJ /
377 kcal
35g
16,5g
Carbohydrate
From Sugar
Protein
Salt